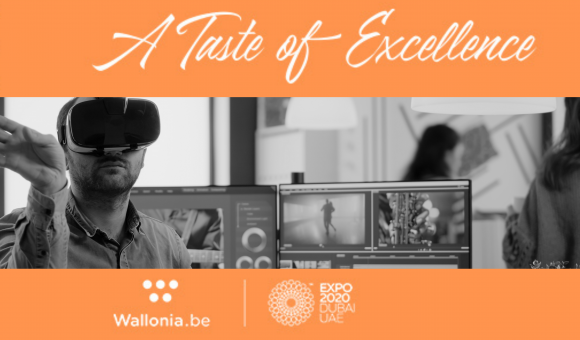 You're invited to our Pop-Up Theme Park!
SAVE THE DATE: Wednesday 10 November 2021
LOCATION: BELGIAN PAVILION in BeBizz (Business Centre) – MOBILITY DISTRICT EXPO2020
TIMING: 9 PM – 12 AM
Meet the experts in digital and media technologies. Take part in the live session and find out more on the Wallonia Excellency on DIGITAL TECHNOLOGY. Be amazed by their digital expertise and follow the journey! Experience the playful side of our digital technologies through animations produced by Dirty Monitor (VR), Ionnyck (first connected frame in the world) and Vigo Universal (Augmented & Virtual reality).
Dirtymonitor – Experts in the field of content conception, 3D Video Mapping, VJing, and Digital Art, they master digital technologies and to name one of their numerous shows: Burj Khalifa New Year 2015 & 2016 with an incredible video animation.
Vigo Universal – Pioneers in VR, discover their new concept of virtual reality center, HollloH, in Belgium – a unique place where you can discover exclusive video games, VR simulations and training. 
Ionnyck – Discover a new concept of digital art, the world's first e-paper Digital Art Frame containing millions of tiny ink capsules.
FREE ENTRY TICKET TO EXPO2020 unless you have a seasonal pass! 
SEATS are limited, please kindly register exclusively on the following link : Pop-Up Theme Park Registration.
 
Also not to be missed, on the 8/11, in the evening, we are hosting another Delicious Belgian Chocolate Masterclass on the Belgian Pavilion. Please register on the following link : Chocolate Masterclass Registration.