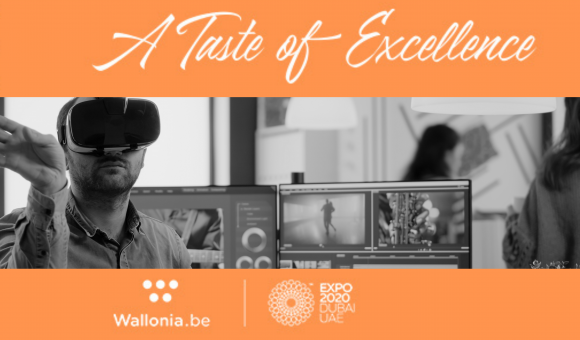 Meet the experts in digital technologies dedicated to Entertainment. Take part in the live session and find out why Wallonia is considered internationally as a land of INNOVATIONS IN CREATIVE TECHNOLOGIES. Be amazed by their digital expertise and follow the journey !
Wallonia, a land of innovations in creative technologies: Entertainment & Technologies to Enhance Live Experience
SAVE THE DATE: Wednesday 10 November 2021
LOCATION: BELGIAN PAVILION in BeBizz (Business Centre) – MOBILITY DISTRICT EXPO2020 
TIMING: 4PM – 7PM
 
LIVE PRESENTATIONS:
The masterclass gathers together creators and innovators with expertise in different fields to share their vision, to discuss their works that enhance live Entertainment and to showcase technologies that support extraordinary narrative contents based on innovative immersive and interactive tools.
 
Hosted by Pierre Collin, CEO of TWIST (Technologies from Wallonia in Image, Sound & Text), join the interactive live animations conducted by our Walloon companies. To name a few:
Dirtymonitor – Experts in the field of content conception, 3D Video Mapping, VJing, and Digital Art, they master digital technologies and to name one of their numerous shows: Burj Khalifa New Year 2015 & 2016 with an incredible video animation.
Vigo Universal – Pioneers in VR, discover their new concept of virtual reality center, HollloH, in Belgium – a unique place where you can discover exclusive video games, VR simulations and training. 
The Smurfs - Meet the Walloon experts behind the Belgian comic series!
Ionnyck – Discover a new concept of digital art, the world's first e-paper Digital Art Frame containing millions of tiny ink capsules.
Alterface – They bring your story alive with interactive theatre, interactive dark ride, interactive walkthrough. Your experts for building attractions in theme parks
Dreamwall – Experts in the use of virtual technologies, your partner in virtual sets design and Augmented Reality content.
Deltacast – Specialists in enhancing virtual experience through live graphics solutions. DELTA-live: making real-time graphics insert, DELTA-highlight suite: constructing post production sport sequences, DELTA-cg: controlling the creation of your graphics and the play-out on multiple screens and DELTA-offside: virtual offside line used in soccer VAR.
SEATS are limited, please kindly register exclusively on the following link: Digital Technology Masterclass Registration.
LIVE DEMONSTRATIONS: 
A pop-up Theme park will be set up on the Belgian pavilion. Come and test the playful side of our digital technologies through animations produced by Dirty Monitor (VR), Ionnyck (first connected frame in the world) and Vigo Universal (Augmented & Virtual reality). Timings to take part in the pop-up theme park 9PM – 12AM
Limited spaces, please kindly register exclusively on the following link: Pop-Up Theme Park Registration.
 
FREE ENTRY TICKET TO EXPO2020 unless you have a seasonal pass 
 
And on the same week, our tourism operators and DMCs are visiting the market and its key actors ! Let us know if you are interested to welcome them!
We look forward to welcoming you on the Belgian Pavilion!