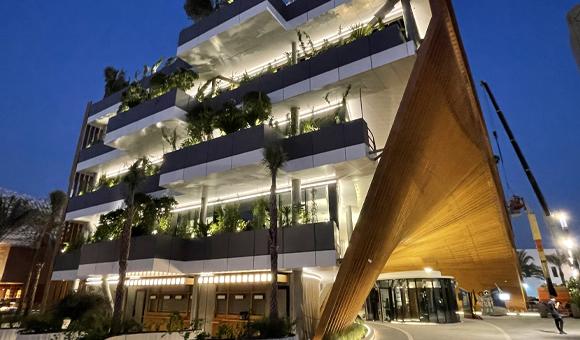 The Dubai World Expo will open its doors on 1 October and the Belgian pavilion, which has already won several awards, promises to be one of the most attractive. Nicknamed the "Green Arch", this eco-responsible garden building was designed by architect Vincent Callebaut from La Louvière. Wallonia and the Wallonia-Brussels Federation are preparing to hold a week of economic, tourist and cultural activities. A dense and varied programme will take place in the Belgian pavilion from 6 to 12 November and will be coupled with an important economic mission, as nearly 60 Walloon companies will travel to Dubai to prospect.
Yesterday, Belgium presented its pavilion to the press at the Atomium, a powerful symbol of Expo 58. Perfectly located on an approximately 2,180m² plot in the mobility zone of the Expo site, it includes a business centre, a restaurant, a chocolate shop, a souvenir shop, a panoramic terrace offering a rare view of the Expo site and, above all, a scenographic space that will allow visitors to discover the innovations that Belgium and its three regions are proposing for the future in terms of mobility. As Pierre-Yves Dermagne, Federal Minister of the Economy, pointed out, "A world exhibition is always a special time, especially for a small country, because it can compete on an equal footing with the big ones."
Built by BESIX and Vanhout, it was Walloon Vincent Callebaut that designed our pavilion, in association with the firm ASSAR ARCHITECTS. An architect from La Louvière, Callebaut is internationally recognised for his eco-responsible, futuristic-looking projects. This visionary, who graduated in 2000 from the Victor Horta Institute of the Faculty of Architecture of the Université libre de Bruxelles, designs smart cities that integrate both renewable energy and urban agriculture. Inspired by biomimicry, his projects seek to restore the symbiosis between humans and their environment. This pavilion, which combines a wooden vault with intensive vegetation, proves once again that it is possible to create resilient projects in which humans and nature combine their strengths.
The tunnel effect created by the wooden arch creates an inviting public agora that is representative of our 'Belgitude'. "What we like about the Belgians is their ability to synthesise the Latin romantic spirit with the pragmatic character of the Germanic and Anglo-Saxon people," said Vincent Callebaut.
Our pavilion fits perfectly with the theme of this Expo 2020, which has been postponed for a year due to the health crisis, "Connecting minds, Creating the future". 170 countries are taking part and the organisers expect 25 million visitors from all over the world. Belgium is preparing to welcome 15,000 per day into its pavilion, which in early November will resonate with the colours of Wallonia. There will be a succession of masterclasses, workshops and interactive conferences in the pavilion's Business Center to highlight our region's key sectors in the Emirates: research and innovation in the agri-food industry, space, fashion and design, chocolate, tourism, multimedia, equestrian and even diamonds, with the presence of Charleroi diamond dealer Pino Spitaleri, one of the world's greatest jewellers.
There will also be an exciting cultural programme, with music, folklore and a touch of magic.
More info to come and here on Wallonia at Expo Dubai
Pages