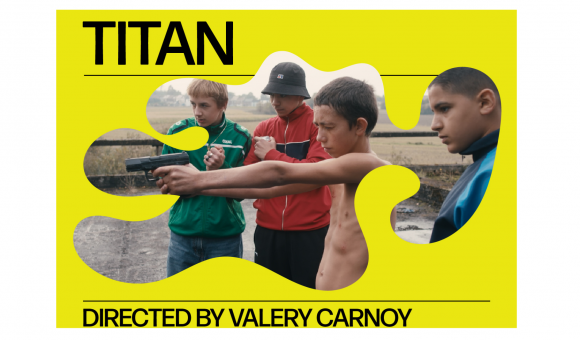 For the Franco Film Festival, Wallonie Bruxelles International (WBI) and WBImages selected 2 films to highlight the expertise of the Belgian Film industry: a short film "Titan" by Valéry Carnoy and the film "La Ruche" by Christophe Hermans.
Titan is a short film directed by Valéry Carnoy 
Valery Carnoy is a young Belgian director and image operator trained at the National Institute of Performing Arts (Insas) in Brussels, initially trained in Intercultural Psychology at the University of Brussels (ULB).
The short film relates to the difficulties and struggles of growing up as a teenager; Nathan is thirteen years old boy. Driven by his new friend Malik, he prepares himself for a strange ritual to become a member of a teens gang. 
See TRAILER 
We interviewed Valéry Carnoy to get to know his insights and experiences as a Belgian Film maker:
 - What inspired you to make films (a film, an actor, a place or an anecdote…)? A filmmaker from my home country, Jaco Van Dormael
 - How would you describe your short film "TITAN" in three words? Tense, gentle and violent.
 - Titan is your second short film. How did you come up with the ideas on the themes of childhood and growing up as a teenager? And why do you want to highlight this story?
Titan is my second short film. I made My Planet in 2018, in which I talked about masculinity with a focus on body appearances by using a rather corpulent character. In Titan, masculinity also remains at the forefront but I also wanted to pinpoint how teenagers are affected by the weight of injunctions to masculinity. The film shows a group of teenagers inflicting a ritual on others, as a kind of test or a game of integration with a morally violent behavior, undermining the image of adult masculinity. The ritual, the power, the capacity to hurt oneself, to suffer, humiliation and nudity are put in the spotlight. We are far from traditional rituals that highlight values ​​such as collectivism, friendship and trust. I wanted to highlight this process.
- The film is shot in Belgium and reflects a real-life event. It's not easy growing up as a teenager and feeling accepted in a community. Do you think this is a story that replicates itself in other countries and cultural system
I think that the mechanisms of exclusions and inclusions in a group are universal. It all depends on the supervision of young people, in our society, for example, the generational gap between young people and adults is increasingly important. Young people tend to create their own rituals, to distract themselves, which can lead to abuses.
- In your opinion, what is the Belgian touch found in your film?
It is a social and current film with a spectacular character, young teenagers who face each other in a duel with gas revolvers. Like the duels found in the film "Barry Lyndon". When I see the films of Belgian director Félix Van Groningen, for example, the situation is realistic and current, but the events are often spectacular and surreal. In Titan I wanted to transcend reality on stage.
- The end of the short film Titan brings back to the family realm and the search for affection. Why did you imagine such an ending? What is the message you wanted to convey?
When you are a teenager, within a circle of other teens, you are often acting, instead of being yourself. In the film, Nathan denies all feelings of kindness and tenderness to conform to the codes of the group, when he just needs to be loved and accepted. He presents himself as a Titan, while he is full of sensitivity. The scene of the dog and the mother brings us back to his inherent need for affection, it shows us that he is above all a child who wants to play big.
- After this first film, are you already thinking or working on the next one? Do you already have ideas or ongoing projects?
I am currently working on two feature film projects: "The Dance of the Foxes" and "Spectacular Loves". They are two fundamentally different projects. The first one explores dramatic comedy, teenager years, friendship and the acceptance of weakness, and for the second, romantic comedy, adultery and double life.
- Titan will be screened at the end of March 2022 during the Belgian Film Festival, in Dubai and Abu Dhabi. The film was selected by the International Organization of La Francophonie (OIF). What are your impressions? It's great, there is a feeling of pride. I won't physically be present to attend so I don't quite measure the importance of the event.
- What is your general impression on Dubai and its cinematographic world? Any place in particular you would like to shoot one day?
I know nothing of Dubai except the Burj Khalifa, which makes me dizzy, and a famous butcher who serves gold-dusted steak to his customers (Nusr-Et steak restaurant in Dubai).
- Quick Quizz on Dubai :
Desert or Sea? Sea
Burj Al Arab or Burj Khalifa? Burj Al Arab
Tradition or Innovation? Tradition
Pearl or Gold? Gold
Mosque or Souk? Souk
Falcon or Stallion? Falcon
Dish Dash or Suit? Dish Dash
Shisha or date? Date
Metro or 4x4? Metro
Pages