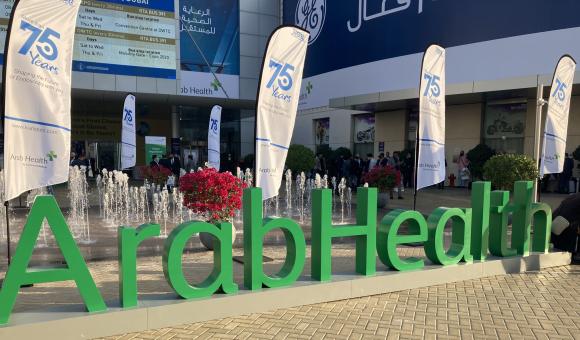 It's today, it's now and Live in person!
24 January - 27 January 2022 @DWTC
Arab Health is currently being staged at the Dubai World Trade Centre in Dubai. Technology & innovation are the trending concepts in this 4-day gathering reuniting over 60,000 healthcare professionals.
With over 3500 exhibitors from 60 countries and more than 20 dedicated country pavilions, Arab Health is one of the greatest international fairs showcasing the latest healthcare & laboratory research.
Come to the Belgian Pavilion and meet our 17 Belgian companies from Wallonia:
* ECOSTERYL - Medical waste treatment             
* BELLAVIE - Food supplements          
* CLINIC 6 - Cryosurgery - Freezpen removes all skin lesions
* G-FLEX - Medical devices       
* H&O  EQUIPMENTS - Cryosurgery precision tools
* HAULIGA - Cosmetics and pharma hair, skin and face care; dental treatments
* HUCKERT'S INTERNATIONAL - Medical devices
*IOTCO - UVMASTERCARE - Medical devices 
* LABORATOIRES PHARMACEUTIQUES TRENKER - Food supplements, medical devices     
* MASANA - Software development for the healthcare sector 
* MITHRA PHARMACEUTICALS - Medical treatment in Women's health  
* ONELIFE -  Development of innovative enzymatic detergence solutions 
* SMI -  Medical devices 
* TECHNO-HIGH-TECHNOLOGY - Health supplements, products & foodstuffs
*  CEREPHARMA - Development & manufacture of skin care products
*  INTERCO - specialized in the manufacture  of supports for the prevention & treatment of pressure sores
*  ONCOMFORT - Digital sedation - taking patients' pain anxiety away through  virtual reality without medication
Find out more about our companies from Wallonia by reading our brochure.
More information on Arab Health: https://www.arabhealthonline.com
Exhibitors at Arab Health will include Siemens, Canon, Masimo, Drager, GE Healthcare, Philips, Abbott, Roche, and Seegene.
Arab Health and Medlab Middle East @DWTC will also be launching their latest initiative  - The Future Health Summit - January 2022. The high-level event will be attended by over 150 senior government healthcare officials, CEOs and visionaries, from across the globe who are building a future-proof healthcare strategy.
More information on https://www.arabhealthonline.com/en/media/press-releases/Arab-Health-Medlab-Middle-Inaugurate-Future-Health-Summit
Pages