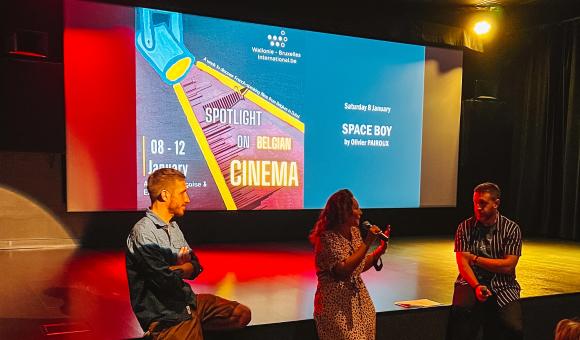 Spotlight on Belgian Cinema in the UAE proved to be a huge success!
How did it come about? Who are the awesome organizers behind this project?
Meet the passionate Belgian expats behind the scenes! Thanks to Hassan Nasser and his wife Helene Wery, Belgian cinema was under the spotlight in Dubai from 8 - 12 January 2022.
And if you want to know more on the drivers for this initiative, listen to the Dubaieye interview with Hassan Nasser - on link https://lnkd.in/eXn_qn_e (@11'-18')
It's all about finding your passion and pursuing it!
It was no more than 4 days of movie screening at the Alliance Française Dubai, presented by Wallonie-Bruxelles International (WBI) with the support of Wallonie-Bruxelles Image and Alliance Française Dubai. All the films were screened in French with English subtitles. 
6 French-speaking Belgian films, in line with the themes of EXPO2020 Dubai combining new releases and the best classics:
"Un Monde" by Laura Wandel
"Space Boy" by Olivier Pairoux
"Ernest & Celestine" by Patar&Aubier
"Les Intranquilles" by J. Lafosse
"Rien à Foutre" by Emmanuel Marre and Julie Lecoustre
"Duelles" by Olivier Masset-Depasse
The Belgian film festival ended with a Round Table "Cinema Production in Belgium and in the UAE" - on Wednesday 12 January 2022 on the Belgian pavilion with Belgian & International representatives of the cinema industry. And for the closing festival, we were thrilled to welcome, from Belgium, the film producer Jacques Henri Bronckart , the Film Director Olivier Masset-Depasse, and the CFO and tax shelter expert Jérôme Tellin. The 3 Belgian panelists were joined by Hans Fraikin , the Abu Dhabi Film and Television Commissioner. They turned the round table into a passionate and fascinating discussion on the downsides  in producing and directing a film in the Belgian Cinema industry today. The attendees were thrilled to dig further into their experiences and were curious to know more on their future projects.
The evening ended up with a closing cocktail party on the stunning rooftop of the Belgian Pavilion at EXPO2020. It was a great opportunity to thank all of those who took part in the organization of the festival and to reward our best public for being supportive and present this week.
Let's meet again next year!